---
Our team has seen it from our own experience at top firms: most legacy advocacy vendors don't cut it for agencies.
If your clients require grassroots advocacy at scale, Speak4 is your ideal partner. We focus on three principles when it comes to our platform:
Speak4 is easy-to-use on the back and front ends of our platform; constantly innovating to accommodate a rapidly evolving advocacy landscape; and our tool is built through close collaboration with our partners to ensure we fit your (and your clients') needs.
Example: Our Partner Tools feature was developed specifically for our agency partners, allowing them to toggle between efforts, assign team members to designated campaigns and run multiple campaigns at once.
See more examples of our unique approach to digital grassroots advocacy:
---
The Basics
Our intuitive platform and dynamic campaign page builder allow partners to build and launch a campaign in under 10 minutes.


We support industry-leading targeting capabilities at the federal, state and local levels. Advocacy groups have the option to target legislative bodies, specific committees and individual lawmakers.


Our Regulations.gov integration allows campaigns to target regulatory comment periods, accelerating public engagement in the legislative process.


Our seamless Facebook Lead Form integration and white labeled Zapier connection supports user data flow to more than 5,000 platforms outside of Speak4, putting an end to lost data and broken integrations.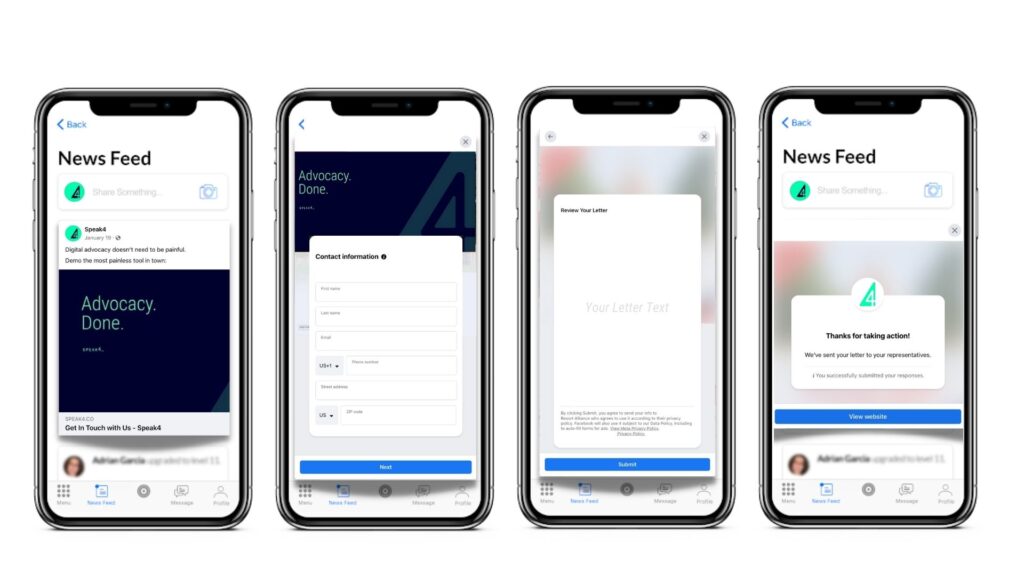 Example of Speak4's Facebook Lead Form integration.
---
The Upgrades
Our Recruit feature allows your team to grow your list of supporters by encouraging advocates to "sign a petition" or "take a survey", without sending a message to lawmakers.


Our Custom Fields option leverages checkboxes, multiple choice and text boxes to mine advocates' preferences and motivations for sending messages to lawmakers.


Send+ doubles your campaign's impact by generating automated follow-up messages on behalf of advocates after a set number of days.


Message Scheduling holds advocates' messages for a period of time to allow your team maximum flexibility when it comes to timing the impact of your campaign.
---
The Value-Adds
We prioritize Advocate Lifetime Value (ALV) – the number of actions an advocate takes in their lifetime – in our development roadmap. We focus on building long-term relationships with your advocates to generate repeated actions instead of focusing only on driving single actions. Because your clients (and you) shouldn't have to choose between quantity and quality.


StoryTeller Mode allows advocates to submit personalized video testimonials to your team to review and leverage in additional grasstops recruitment and organic or paid media content.


Our highly-customizable reporting suite allows you to visualize your top supporters based on Speak4's "advocate scoring" – a summary of all engagement to date across campaigns and recipients. The platform supports lawmaker reporting to provide an overview of how often lawmakers are being reached and by whom. This represents just the tip of the iceberg in terms of what Speak4 can offer for reporting.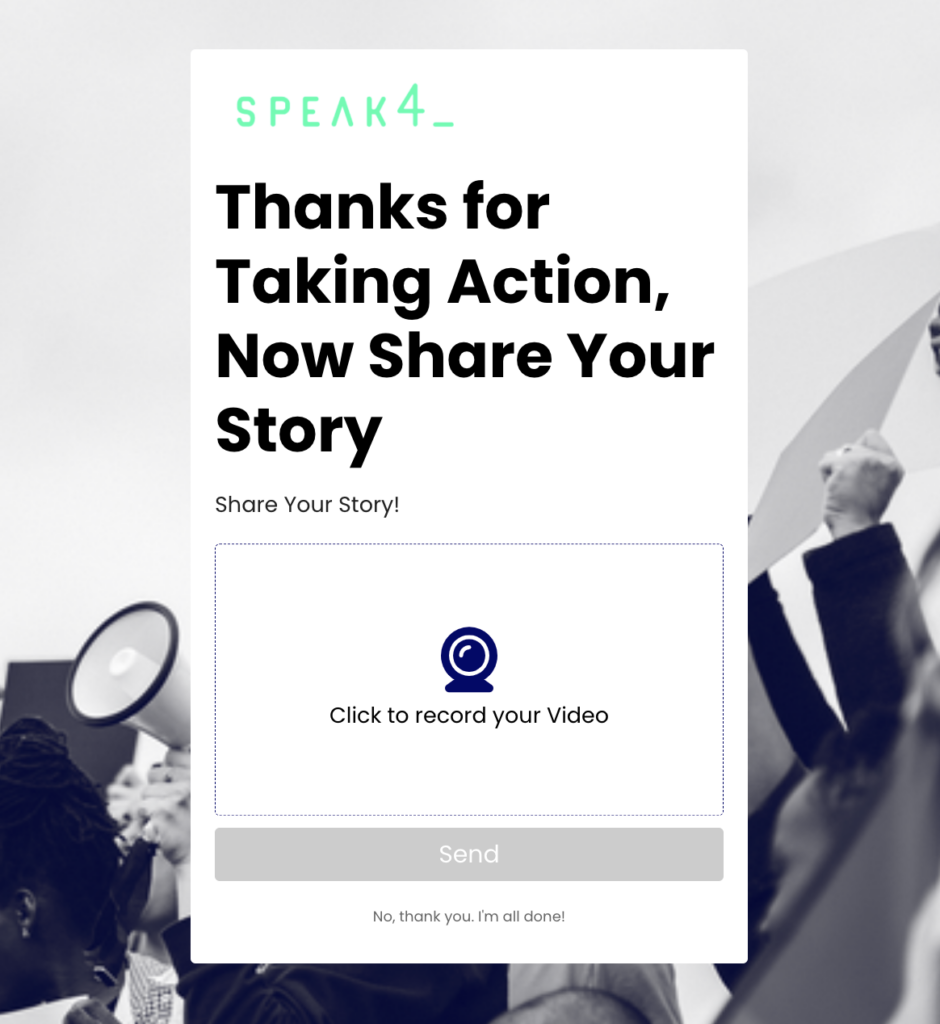 ---
What Our Agency Partners Are Saying
Switching to Speak4 was the right move for our team. Better customer service, faster updates, and features we actually use.

Tyler Brown, Hadron Strategies
We're pumped to partner with Speak4 – they make it easy to launch campaigns that move the needle.

Collin Berglund, Rational 360
You focus on the things that make it easier.

Anthony Birch, Platform Communications